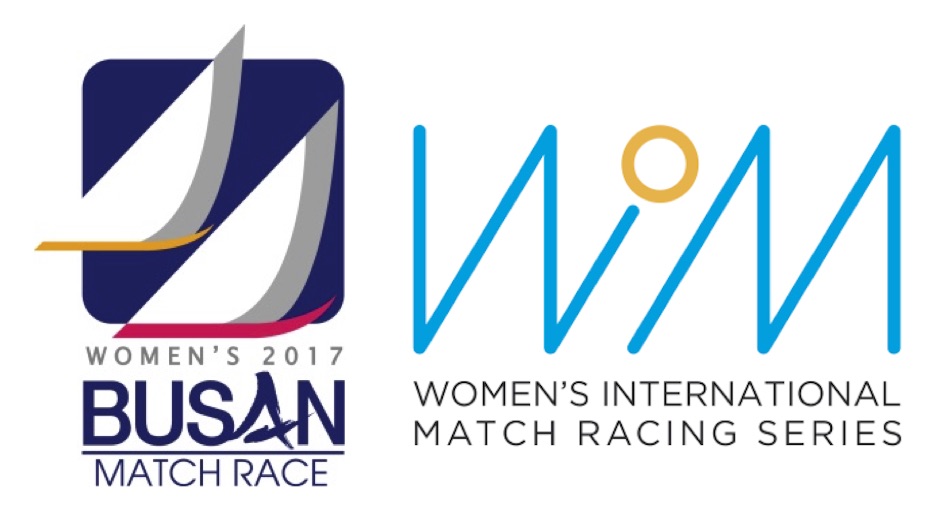 Sunny and Shifty Day One in Busan
–The Danes and Swedes Take Advantage of the Conditions
The Busan Cup Women's International Match Race started on time under sunny skies but with a shifty northwesterly breeze keeping the teams and the race committee on their toes all day. "The morning was relatively steady when you compare it to the puffy and shifty conditions the afternoon group faced", commented Chief Umpire Gary Manuel (AUS).
Racing started on time in the prevailing northwesterly which fluctuated throughout the day challenging the sailors with shifty and puffy conditions. "The race committee was very efficient in running the races this morning. Giving us enough time between races, but not wasting any time" 2016 Busan Cup runner-up Lucy Macgregor (GBR) remarked after coming ashore with the morning group of sailors. Team Mac finished the first day with 3 wins and two losses.
The Danish team skippered by Trine Palludan, Team Kattnakken, took advantage of the shifty conditions in the morning to finish the day undefeated with a scorecard of 5 wins and no losses. Palludan offered these thoughts: "Whenever you sail here in Busan you must be careful to sail to the shifts. You cannot rely on simply covering the other boat, if you do that you can't win. Everyone on board is involved in deciding where to go and keeping the boat sailing fast. We are very happy with how we did today."
When the second group of six teams took to the water in the afternoon the winds decreased slightly to 4 or 5 knots and for a time became even more shifty before gradually increasing to over 12 knots.
In the afternoon group, Swedish skipper Caroline Sylvan and her New Sweden Match Racing Team also conquered the conditions and ended the day undefeated. When asked about her day, Sylvan responded with a smile: "Great! It was a lot of fun. We kept improving with every maneuver and the girls did an amazing job keeping everything running smoothly."
With more than half of the initial round-robin stage still to be completed over the next two day, there is plenty of room for positions to change in the results table before the quarter-final knockout stage. The weather may also influence the outcomes as a cold front is due to pas through region and bring with it strong breeze and rain.
The Busan Cup Women's International Match Race in Busan, South Korea, continues Wednesday with more round-robin racing, to be followed by quarter-finals, semi-finals, then the conclusion final races, prize giving and closing ceremony on Saturday the 18th of November. The race village, open to the public with large video screens, is based in the historic Suyeong Bay Yacht Center which hosted the Olympic Sailing Competition in 1988.
Results in the 2017 Busan Cup Women's International Match Race, the third event of the 2017 WIM Series, after day 1 of the round-robin (skipper, nationality, team, wins – losses):
1- Trine Palludan, DEN, Team Kattnakken, 5-0
1- Caroline Sylvan, SWE, New Sweden Match Racing Team, 5-0
3- Pauline Courtois, FRA, Match in Pink by Normandy Elite Team, 4-1
4- Renée Groeneveld, NED, Matchrace Team Netherlands, 3-2
4- Lucy Macgregor, GBR, Team Mac, 3-2
4- Marinella Laaksonen, FIN, L2 Match Racing Team, 3-2
7- Anna Östling, SWE, Team Anna, 2-3
7- Sarah Parker, AUS, Team Parker, 2-3
9- Linnea Floser, SWE, Peregrine Racing, 1-4
9- Clare Costanzo, AUS, Team Costanzo, 1-4
9- Alexa Bezel, SUI, Swiss Women Match Race Team, 1-4
12- Eunjin Kim, KOR, Team Ladies, 0-5
~~~~~~~~~~
The Women's International Match Racing Series (WIM Series) is the first and only professional sailing series for women, hosted by the Women's International Match Racing Association and joined by the world's leading women match racing sailors. Match racing is sailed in two identical boats around a short course, providing fast action close to the crowds on shore. The intense racing is just as exciting for the spectators as it is strategically, tactically and physically challenging for the competing crews.
2017 WIM Series (date, event name, location, boat type):


16-21 June – 2017 Women's Match Racing World Championship – Helsinki, Finland - J/80


7-12 August – 2017 Lysekil Women's Match – Lysekil, Sweden – Fareast 28


13-18 November – 2017 Busan Cup Women's International Match Race – Busan, South Korea - K30



30 November – 3 December – 2017 Carlos Aguilar Match Race – St. Thomas, U.S. Virgin Islands - IC 24

– Canceled due to hurricanes


11-16 December – 2017 International Bedanne's Cup – Tourville-la-Rivière, France - Beneteau First Class 7.5


The WIM Series is hosted by WIMRA. Official suppliers are Sailnet, Sebago, MILK, Adstream, Intertidal Ventures, Fredag and Match Racing Results Service.
Images: A number of hi-res images are available for download on 
www.wimseries.com/media/
Video: All videos are available on 
www.wimseries.com/videos/
More information about the Women's International Match Racing Series:

www.wimseries.com
www.facebook.com/WIMSeries
www.twitter.com/WIMSeries
www.youtube.com/WIMRSeries
www.instagram.com/WIMSeries
~~~~~
The Busan Cup Women's International Match Race is hosted by the Busan Sailing Federation, with the support of the Metropolitan City of Busan.
More information about the Busan Cup Women's International Match Race:
www.busanmatch.com
www.facebook.com/BusanMatchRace