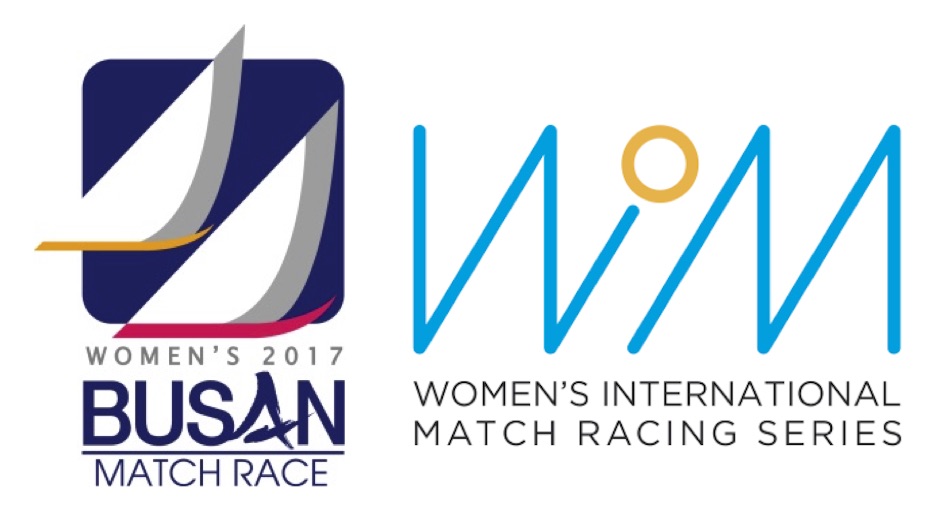 Increased Breeze Brings Excitement in Busan
–All Teams, New and Old, Challenged
Day two of the Busan Cup Women's International Match Race, the third event of the 2017 WIM Series, brought some challenges to the teams as the breeze increased and the conditions stayed consistent – consistently shifting and puffing! "Today was typical Busan – VERY puffy and VERY shifty! But lots of fun!" laughed Renée Groeneveld – skipper of Matchrace Team Netherlands.
The fun match for the Dutch was the match with Brit Lucy Macgregor's Team Mac. "Lucy did the steel balls after the dial up, but we still stayed in control following her off to the right. She couldn't gybe back, but we led back to the line a little early. We surprised her with a dial down and left her behind off of the line and led all of the way to the finish" smiled Groeneveld.
Macgregor ended the round robin with 8 wins and 3 losses – her only loss today coming in her match with Groeneveld. "We had a good day, winning 5 of 6. A pretty solid performance from the team. We had a good position against Renée in the pre-start then I gave it away. It was all my fault" sighed Macgregor. When asked about the game going forward, she said "we'll have to see how the others go in the rest of the round robin to see where we end up in the seeding." She'll be waiting until tomorrow as the last three flights are sailed with the top six seeds each having three matches to sail to determine the final seeding for the quarter-finals.
The team representing the host country, Team Ladies with skipper Eun-Jin Kim from Seoul, has jumped into the deep end at her first grade 1 women's match race and is learning many lessons. "Today was very tough. But, we are excited because we got a lot of experience about match racing and we learned a lot. We received a lot of penalties, but we learn even more from that. The best thing from today is that we won one start. We really love match racing and can't wait to do more, but we need to practice a lot before next year!" said Kim as her team exited the competition with no wins.
The teams leading the standings after day one are still on top as Team Kattnakken with skipper Trine Palludan remains undefeated with a perfect 8-0 score while Caroline Sylvan and her New Sweden Match Racing Team suffered one loss to end the day tied for second with French skipper Pauline Courtois and her Match in Pink by Normandy Elite Team.
The Busan Cup Women's International Match Race in Busan, South Korea, continues Wednesday with more round-robin racing, to be followed by quarter-finals, semi-finals, then the conclusion final races, prize giving and closing ceremony on Saturday the 18th of November. The race village, open to the public with large video screens, is based in the historic Suyeong Bay Yacht Center which hosted the Olympic Sailing Competition in 1988.
Results in the 2017 Busan Cup Women's International Match Race, the third event of the 2017 WIM Series, after day 2 of the round-robin (skipper, nationality, team, wins – losses):
1- Trine Palludan, DEN, Team Kattnakken, 8-0
2- Caroline Sylvan, SWE, New Sweden Match Racing Team, 7-1
2- Pauline Courtois, FRA, Match in Pink by Normandy Elite Team, 7-1
4- Renée Groeneveld, NED, Matchrace Team Netherlands, 6-2
5- Lucy Macgregor, GBR, Team Mac, 8-3
6- Anna Östling, SWE, Team Anna, 5-3
6- Marinella Laaksonen, FIN, L2 Match Racing Team, 5-3
8- Sarah Parker, AUS, Team Parker, 4-7
9- Clare Costanzo, AUS, Team Costanzo, 3-8
10- Alexa Bezel, SUI, Swiss Women Match Race Team, 3-8
11- Linnea Floser, SWE, Peregrine Racing, 1-10
12- Eunjin Kim, KOR, Team Ladies, 0-11
~~~~~~~~~~
The Women's International Match Racing Series (WIM Series) is the first and only professional sailing series for women, hosted by the Women's International Match Racing Association and joined by the world's leading women match racing sailors. Match racing is sailed in two identical boats around a short course, providing fast action close to the crowds on shore. The intense racing is just as exciting for the spectators as it is strategically, tactically and physically challenging for the competing crews.
2017 WIM Series (date, event name, location, boat type):


16-21 June – 2017 Women's Match Racing World Championship – Helsinki, Finland - J/80


7-12 August – 2017 Lysekil Women's Match – Lysekil, Sweden – Fareast 28


13-18 November – 2017 Busan Cup Women's International Match Race – Busan, South Korea - K30



30 November – 3 December – 2017 Carlos Aguilar Match Race – St. Thomas, U.S. Virgin Islands - IC 24

– Canceled due to hurricanes


11-16 December – 2017 International Bedanne's Cup – Tourville-la-Rivière, France - Beneteau First Class 7.5


The WIM Series is hosted by WIMRA. Official suppliers are Sailnet, Sebago, MILK, Adstream, Intertidal Ventures, Fredag and Match Racing Results Service.
Images: A number of hi-res images are available for download on 
www.wimseries.com/media/
Video: All videos are available on 
www.wimseries.com/videos/
More information about the Women's International Match Racing Series:

www.wimseries.com
www.facebook.com/WIMSeries
www.twitter.com/WIMSeries
www.youtube.com/WIMRSeries
www.instagram.com/WIMSeries
~~~~~
The Busan Cup Women's International Match Race is hosted by the Busan Sailing Federation, with the support of the Metropolitan City of Busan.
More information about the Busan Cup Women's International Match Race:
www.busanmatch.com
www.facebook.com/BusanMatchRace