(From the
Women's World Match Racing Tour
)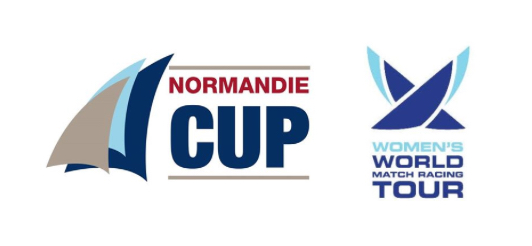 COURTOIS DEFENDS NORMANDY TITLE
Le Havre, France (30 May 2023) French female match racer Pauline Courtois and her Match in Pink Normandy Elite team proved unstoppable yesterday as they defended their Normandie Match Cup title in Le Havre, France, stage 3 of the 2023 Women's World Match Racing Tour.
Courtois and her regular crew of Louise Acker, Clara Bayo, Théa Khleif and Maëlenn Lemaitre defeated New Zealand's 2.0 Racing Team skippered by Megan Thomson 3-0 in the first to three points final. Fellow Kiwi team EDGE Womens Match skippered by Celia Willison joined the podium in 3rd place after an action packed petit-final against Sweden's WINGS Team skippered by Anna Östling.
It was not an easy day for the four teams competing in the petit-final and final, as well as the last race of the 'Queen of the Castle' stage to decide the final 5th to 11th placings.
After a spectacular previous day undefeated in the 'Queen of the Castle' stage and climbing from 10th to 6th place, Otter Racing (skipper Sophie Otter) were unable to clinch their last win against Team Out of the Box (skipper Julia Aartsen) and settled with the 6th place overall with Aartsen and crew taking 5th place.
"We had a great day yesterday for sure" added Otter. "It was good to consolidate all our learnings from the round robin and then piece everything together to climb the Queen of the Castle ladder."
In the petit-final between Östling and Willison, it was all-action as Östling and crew took the first win in the first-to-three points match, only for Willison to level the score at 1-1. Willison then won the third race and Östling levelled back at 2-2 with a decider for the match.
The Swedish team crossed the line to go 3-2 but were then deducted a point for damage caused by a collision earlier in the race. After a boat switch, both teams re-sailed the decider match and this time it was Willison and her EDGE Womens Match crew of Rebecca Coles, Ruby Scholten, Alison Kent, Laurane Mettraux that took the win to finish 3-2 and secure their podium finish in 3rd place.
The final stage of the 2023 World Match Racing Tour takes place at KDY Women's Match Race Denmark hosted by the Royal Danish Yacht Club, 21-24 September.
Normandie Match Cup 2023 Final results:
1. FRA Pauline Courtois, Louise Acker, Clara Bayo, Théa Khleif, Maëlenn Lemaitre
2. NZL Megan Thomson, Josi Andres, Jo Aleh, Lisa Dartnall, Sophie Fyfe
3. NZL Celia Willison, Rebecca Coles, Ruby Scholten, Alison Kent, Laurane Mettraux
4. SWE Anna Östling, Annika Carlunger, Klara Wester, Martina Carlsson, Linnea Wennergren
5. NED Julia Aartsen, Eva Asbeek, Brusse, Isemene Usman, Nerine Usman, Iris van Gerrevink
6. GBR Sophie Otter, Jasmine Boote, Hebe Hemming, Hatty Ward, Rosie Rowell
7. FRA Kenza Coutard, Nell Castilla, Eolia Rio, Victtoire Lerat, Enza Geslin
8. USA Nicole Breault, Julie Mitchell, Molly Vandemoer, Karen Loutzenheiser, Dana Hayes
9. GBR Ali Morrish, Sarah Jarman, Kat Selfe, Rachel Tilley, Nicole Mcpherson
10. DEN Lea Richter Vogelius, Joan Hansen, Helle Hansen, Annette Jacobsen, Helena Jarlgaard
11. DEN Kristine Mauritzen, Malene Christensen, Helena Gustavs Formgren, Oda Svalestuen, Emilie Lauritzen
See all of the results
here
For information on the Normandie Match Cup
https://normandie-cup.com/
For information on WWMRT, visit
womenswmrt.com
See the WWMRT website for more information and photos:
https://womenswmrt.com/events/normandie-cup-com/
About Women's World Match Racing Tour
The Women's World Match Racing Tour was launched in 2022 to continue the hugely successful legacy of the WIM Series (Women's International Match Racing Series) providing a global match racing series for female sailors. The name of the WIM Series has been changed and re-launched as the Women's World Match Racing Tour with it's continued mission to expand and strengthen global match racing and promote opportunities for competitive women's sailing at every level. The Women's World Match Racing Tour is the world's first and only professional sailing series for women providing a valuable pathway for aspiring female world champions in the sport of sailing.
womenswmrt.com
2023 Women's World Match Racing Tour
April 24-28 – Casa Vela Cup (J/22) – San Francisco, USA
April 30-May 4 – Santa Maria Cup (J/22) – Annapolis, USA
May 26-29 – Normandy Match Cup (First 7.5) – Le Havre, FRA
September 21-24 – KDY Women's Match Race (DS37) – Copenhagen, DEN